CLICK HERE FOR FACEBOOK VIDEOS OF THE NEW CAVAPOO'S
MY HUSBAND AND I STARTED RAISING DESIGNER HYBRIDS IN 2006. WE ARE RETIRED FROM FARMING FOR 40 PLUS YEARS WE ARE 69 AND 70. WE HAVE LOTS OF DIFFERENT HOBBIES. WE DO OUR UTMOST BEST TO RAISE HEALTHY HAPPY PUPPIES AND TAKE CARE OF OUR BREEDERS. WE OWN 9 DOGS IN WHICH 3 ARE NOT BREEDERS. YOU CAN VIEW PUPPIES AND THE PARENTS ON THIS SITE OR GO TO THE FACEBOOK LINK TO SEE THE MOST CURRENT UP TO DATE PHOTOS AND WHAT IS HAPPENING AT CEE CEE'S KENNELS.
ALL CAVAPOO'S 1,250.00
I AM IN CALIF. 559-281-2868
THIS LITTER BELONGS TO PIPER AND MAX (retired). ALL SOLD. WE PRODUCE A WIDE VARIETY OF COLORS.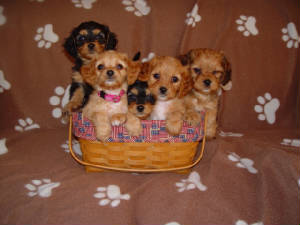 FACEBOOK HAS A LOT OF PICTURES OF CURRENT PUPPIES AND PAST PUPPIES SOLD JUST CLICK ON PHOTOS TO THE LEFT OF THE SCREEN. ALSO LOTS OF VIDEOS. YOU DON'T HAVE TO HAVE AN ACCOUNT TO SEE MY PICTURES AND VIDEOS. BECOME A FRIEND OF CEE CEE'S OR CLICK THE LIKE BUTTON TO GET UPDATES OF PUPS ETC. GET TO KNOW ME AND OUR BUSINESS.