Hello, if you have been watching my website and haven't seen much going on well it's because I retired Chanel and Phobe (tri Cavaliers) then 2 Cavaliers did not take on the last breeding. So I took my Poodle stud 'Max' in for a semen check and he was sterile. Hummm... This putting me way behind with keeping up on the wait list which hasn't moved or changed much. So I apologize for all of this which has been beyond my control. I do have 3 new Poodle's and one new stud Poodle so I am hoping things will be up and going again soon. Also purchased a beautiful ruby Cavalier male for the new Poodles. Max is looking for a retirement home. Thank you all.
CAVAPOO'S 1,000.00
I AM IN CALIF. 559-281-2868
THIS LITTER BELONGS TO PIPER AND MAX. ALL SOLD. WE PRODUCE A WIDE VARIETY OF COLORS.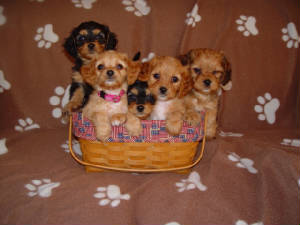 FACEBOOK HAS A LOT OF PICTURES OF CURRENT PUPPIES AND PAST PUPPIES SOLD JUST CLICK ON PHOTOS TO THE LEFT OF THE SCREEN. ALSO LOTS OF VIDEOS. YOU DON'T HAVE TO HAVE AN ACCOUNT TO SEE MY PICTURES AND VIDEOS. BECOME A FRIEND OF CEE CEE'S OR CLICK THE LIKE BUTTON TO GET UPDATES OF PUPS ETC. GET TO KNOW ME AND OUR BUSINESS.